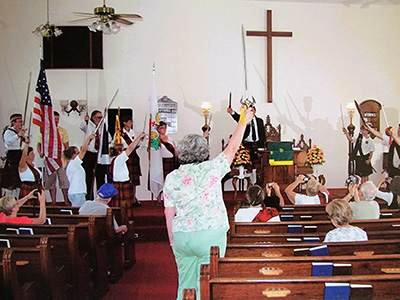 Members of Clan Uisdean USA will re-enact Reverend Alexander Craighead's November 11th, 1743, meeting of Covenanters that produced what became known as the Octorara Declaration. Rev. Alexander Craighead was an ordained pastor of the Donegal Presbytery, but he was also of New Side persuasion, a supporter of the Great Awakening, and a Covenanter. He was pastor of Middle Octorara Presbyterian Church from 1735-1741, when he was relieved of his duties by Presbytery. It caused such a split within his Old Side congregation that Middle Octorara was not able to call a regular pastor for 40 years.
For a time, Craighead roamed at will with fiery sermons in the company of the likes of George Whitefield. In 1743, at a meeting of Covenanters held on Middle Octorara property the group renewed their vows to the Covenants – the Octorara Declaration. They met on a hillside, likely near where the Octorara Covenanter Presbyterian Church would be built 11 years later. The Covenanters declared George II unsuited to rule the colonies (not a Presbyterian), and swore with uplifted swords to guard "their bodies, property and consciences against all attacks; to defend Christ's gospel and the Purity of the Church; to submit to no ruler who would not submit to Christ; and to defend their liberty from fears without and within." This was radical talk at a time when few colonists would challenge the authority of the English king. The event weas a precursor of the American Revolution which happened decades later.
This re-enactment is dedicated to the preservation of the legacy of the families McCuistion, McCuiston, McQuiston, McQuistion, McQuesten, McChristian, McQuestion, McQueston and all variations thereof in the United States, who are descendants of Uisdean, son of Alexander McDonald, Lord of the Isles, Earl of Ross and Justiciar of the Highlands. Uisdean is also a descendant of Robert the Bruce, hero-king of Scotland.