The Octorara Covenanter Presbyterian Foundation to Honor World War II Veterans at Scottish Festival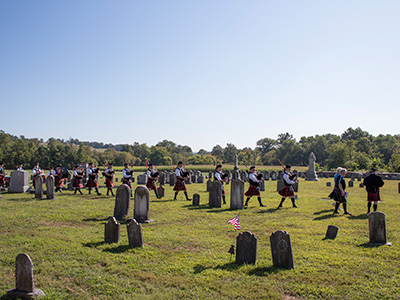 The Foundation has honored veterans at the Festival in past years, particularly those buried in the three cemeteries on the grounds. However, this is a very special year since we are honoring World War II veterans and there are 45 of them buried in Middle Octorara's upper cemetery – north of route 372.
The ceremony, starting at 9:30, will feature the Washington Memorial Pipes and Drums, a color guard, speaker, and the reading of the names of veterans buried in the upper cemetery. Names of other veterans from the local community buried elsewhere will be listed in the printed program. A wreath will be placed on the grave of gold star veteran Roy A. Young. Veteran graves will have special markers and visitors will be invited to tour the cemetery during the day.
Organizations and individuals are encouraged to become sponsors for the Festival. Please see sponsor forms. With vaccinations going well, fans of Scottish culture hungry for an event to attend, and the general public also in need of entertainment, this year's event should be a great opportunity for businesses as well as individuals to support the Scottish Festival.