Few countries in the world can boast a history as diverse or as rich as Scotland; and inherent in that culture is the Scottish tribal denomination of clans. Clans provide Scots everywhere with a point of reference for their identity, history and culture.
Come one, come all, come near, come far, and register your clan to attend the Covenanter Scottish Games on Saturday, September 9th, 2023, on the grounds of the Octorara Covenanter Presbyterian Church and Middle Octorara Presbyterian Church, at 1199 Valley Road (Route 372) in Quarryville, PA.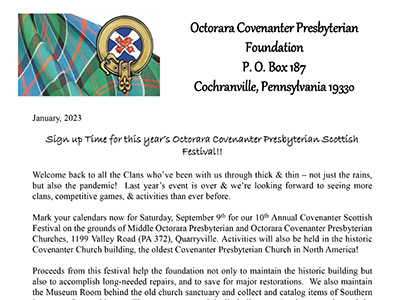 Clans may set up at on the day at 8:00 am. Each clan will receive four complimentary tickets with their clan registration. See the attached Clan Registration Form for details, costs and contact details for the Clan co-ordinator.