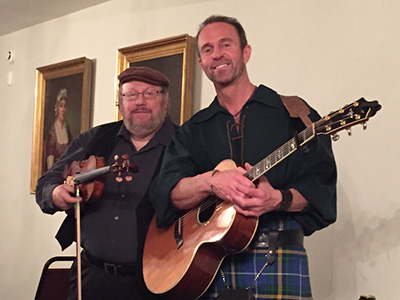 Charlie Zahm is one of the most popular soloists at Celtic music festivals, Maritime, and American Traditional music events anywhere east of the Mississippi. With a baritone voice some have described as "coming along once in a generation," Charlie has become one of the most successful performers on the Celtic festival circuit, weaving magical moments of Scottish and Irish history for the listener and viewer, with passion for the performance and a chosen repertoire pleasing to all members of the family. A master of the guitar as well, Charlie brings an authentic love and respect for the music he sings-and with dashes of humor and a light in his eyes, he will draw you into the stories of his songs!
Charlie is often joined by fantastic Baltimore fiddler Tad Marks, who has toured extensively across the U.S. and Europe with top-name groups and is considered one of the finest fiddlers on the East Coast.
Sit back and enjoy the Jacobite experience, which actually begins with the abdication of James II and the invasion of the Dutch Prince William of Orange in 1688, and hear the spirited songs which help to illustrate the period of the exiled Stuarts and the many attempts by the loyal Highlanders to help them regain their throne. After "the Forty-Five", life in the Highlands changed, and changed utterly— the landscape created by the government destruction on all things Highland is still visible to this very day. It is a story that has to be told, and Charlie Zahm will tell it like no other.