Events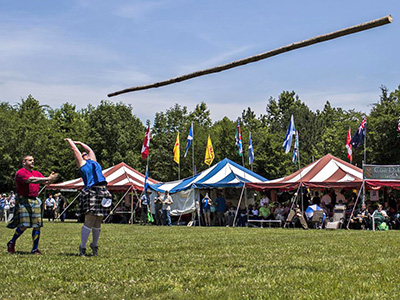 The 10th Annual Covenanter Scottish Festival will host the IHGF Junior World Championships for both men and women, along with 8 other classes.
Competition will consist of nine events:
Open Stone
Braemar Stone
Light Weight for Distance
Heavy Weight for Distance
Light Hammer
Heavy Hammer
Weight Over Bar
Caber
Sheaf
Two optional challenge events will take place after the competition: heavy shackle carry for time & keg over bar.
---
Classes

*All classes will need 4 athletes registered by the deadline to establish that class*
Men's & Women's A, B, C
Men's & Women's Lightweight (200#/155#)
Men's & Women's Junior
Women's Master 40+
Men's Master 40-49
Men's Master 50-59
Men's Master 60+
Registration

Registration fee is $40 and includes: festival admission, hot lunch, water of course, snack table for you and your cheering crew, and shirt. When payment is received, a confirmation email will be sent out soon after.

August 1st is deadline to guarantee shirt and any cancellations after this point are non-refundable

Classes will be capped at 12 athletes. Athlete Registration is a Google Form. Athlete Payment is made seperately.
---
Highland Games Volunteers

Wanted and appreciated! Volunteers will receive a festival shirt, an Amish lunch, water and access to snacks like the athletes.
Must be 16+ years of age and sign a waiver; minors will need to have a parent/guardian sign a waiver beforehand.
Shifts will be divided into morning and afternoon slots: 8am-12pm & 12pm-4pm. A volunteer may fill one or both slots.
Registration is part of the Athletic Google Registration Form.
---
Schedule

7:30am ... Check-in opens & Lightweights weigh-in
8:00am ... Judges & Volunteer Meeting
8:30am ... Athlete Meeting
9:00am ... Competition Stats