Events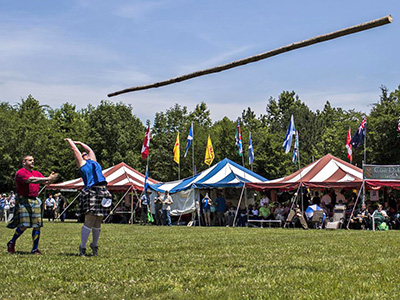 The 8th Annual Covenanter Scottish Festival will host the IHGF Junior World Championships for both men and women, along with 8 other classes.
Competition will consist of nine events:
Open Stone
Braemar Stone
Light Weight for Distance
Heavy Weight for Distance
Light Hammer
Heavy Hammer
Weight for Height
Caber
Sheaf
Two optional challenge events will take place after the competition: heavy shackle carry for time & keg over bar.
---
Classes

A, Open, Master, Junior (16-19), and Lightweight (W<155 & M<200) Novices are welcome and can follow prompts on the registration form to find a suitable class for their eligibility.
Awards

Aggregate awards will be given in each class for 1st-3rd
Challenge events will have separate prizes for 1st-3rd
IHGF Junior World Championship

Men's Junior class will use the Men's Master's implements.
Women's Junior class will use the Women's Master's implements.
Juniors must be aged 16-19 on the day of competition with photo I.D.
Parents & guardians will need to fill in and sign an additional waiver form on day of competition.
---
Registration

Registration fee is $25 and includes: festival entry, a shirt, lunch, and all-day water and Gatorades. The fee is due within 14 days of submitting the registration form. Once the form is submitted an email with payment instructions will be sent out to you quickly after. When payment is received, a confirmation email will be sent out shortly as well.

Athletes must register and pay fee by August 1st to guarantee a shirt and lunch. Walk-ons are welcome on first come, first serve basis with a registration fee of $35.

Refunds will be given up until August 1st
Classes will be capped at 12 athletes. Registration is a Google Form and separate from payment.
---
Highland Games Volunteers

Volunteers will be given water/gatorade. If registered before August 1st, they will be provided lunch and guaranteed a shirt.
Must be 16+ years of age and sign a waiver; minors will need to have a parent/guardian sign a waiver beforehand.
Shifts will be divided into morning and afternoon slots: 8am-12pm & 12pm-4pm. A volunteer may fill one or both slots.
Registration is part of the Athletic Google Registration Form.
---
Schedule

7:00am ... Weigh-in's will open day of competition (or the night before, time and place TBD)
7:30am ... Check-in Opens
7:45-8:00am ... Judge's Meeting
8:00am-8:15am ... Volunteer Meeting w/Judges
8:15am-8:30am ... Athlete Meeting
8:40am ... Warm ups/Volunteer Meeting
9:00am ... Competition Stats