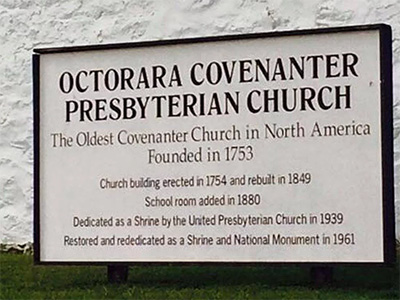 The Oldest Covenanter Church in North America
This year's event will be held in conjunction with the 10th Annual Covenanter Scottish Festival and Highland Games. The Covenanter Scottish Festival is held on the grounds of the Middle Octorara Presbyterian Church and the Octorara Covenanter Church at 1199 Valley Road (Route 372), Quarryville, PA 17566.
The Octorara Covenanter Presbyterian Foundation is a charitable and educational non-profit organization established in part to restore and maintain the Octorara Covenanter Presbyterian Church and its attached school room as an historical site. The Church is the oldest Covenanter Church in North America dating back to 1754. The schoolroom, a Presbyterian Academy, was added to the Church about 1880. From 1901 to 1927 the schoolroom housed Bart Township High School.
The building serves as a museum displaying artifacts from the Covenanter Congregation, the Middle Octorara Congregation, Bart High School and Bart Township. The museum features details of the Covenanter radical patriot leadership prior to and including the Revolutionary War period. The desk tops from the Bart High School era are carved with vintage emblems. The exhibits provide a rich legacy to pass on to future generations.