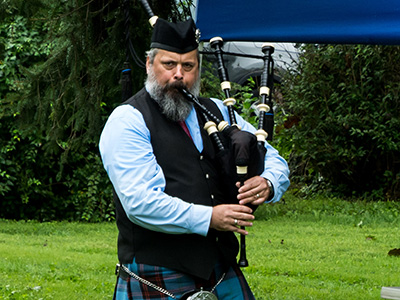 This event is sanctioned by the Eastern United States Pipe Band Association (EUSPBA). All competitors in sanctioned events must be a member in good standing of the EUSPBA or other recognized piping association. All EUSPBA rules and regulations apply. Visit www.euspba.org for rules, regulations, or membership forms.
Events Range from Novice Practice Chanter, through to Grade 5 Piping. Generally, Grades 5, 4, and 3 will be in the morning with Grades 2 & 1 in the afternoon. All competitors (except Novice Practice Chanter) must compete in appropriate highland attire. Order of play will be determined by the reverse order in which entries are received. The first entry received will be the last to play.
Entries must be received by August 29, 2022. Competitors will pay an Competition Entry fee per event as provided in the list of events. A Festival Entry Ticket is included for each registered competitor. Additional Tickets for public attendance to the festival can be purchased from this link.
In addition, an Over 50 competition has been added to this year's contest. You must be age 50 or older as of 9/9/2023. You may compete in both the Over 50 contest and your assigned grade contest.
Solo Piping Competition Events:

Grade 1: Piobaireachd, 2/4 March, Strathspey & Reel, 6/8 March, Hornpipe/Jig
Grade 2: Piobaireachd, 2/4 March, Strathspey & Reel, 6/8 March, Hornpipe/Jig
Grade 3: Piobaireachd, 2/4 March, Strathspey & Reel, 6/8 March, Jig
Grade 4 Senior: Full Piobaireachd, 2/4 March, Strathspey & Reel, 6/8 March, Slow March
Grade 4 Junior: Full Piobaireachd, 2/4 March, Strathspey & Reel, 6/8 March, Slow March
Grade 5: Piobaireachd Ground, March
Novice: March on Practice Chanter
Over 50: Piobaireachd, 2/4 March, Strathspey & Reel
18 & Under: Full Piobaireachd, 2/4 March, Strathspey & Reel
Solo Drumming Competition Events:

Grade 1 Snare: MSR, Hornpipe/Jig, 6/8 March, Drum Solo
Grade 2 Snare: MSR, Hornpipe/Jig, 6/8 March
Grade 3 Snare: 2/4 March, Strathspey & Reel, March Set, 6/8 March
Grade 4 Senior Snare: March, March Set
Grade 4 Junior Snare: March, March Set
Grade 5 Snare: March
Novice: March on Drum Pad
Grade 1 Tenor: MSR, Hornpipe/Jig
Grade 2 Tenor: MSR, Hornpipe/Jig
Grade 3 Tenor: 2/4 March, Strathspey & Reel
Grade 4 Tenor: March
Grade 1 Bass: MSR, Hornpipe/Jig
Grade 2 Bass: MSR, Hornpipe/Jig
Grade 3 Bass: 2/4 March, Strathspey & Reel
Grade 4 Bass: March Set
This Eventbrite link below is for pipers, snare drummers, tenor drummers, and bass drummers to sign up for this EUSPBA-sanctioned solo amateur piping and drumming competition at the 2023 Covenanter Scottish Festival. Register online using the link below: