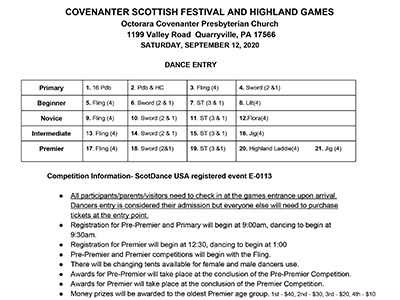 Highland Dance Competitions will be held in the Event Levels of Primary, Beginner, Novice, Intermediate and Premier. The Covenanter Scottish Festival Highland Dance competition is a ScotDance USA registered Event (E-0113).
Registration for each Event Level will occur at different times during the day. Please see the attached Highland Dance Competition Registration Form for registration times, as well as costs, event rules and mailing address for your completed registration form.
Highland Dance Competitions will be returning in 2022. More details, and forms to follow soon....!